Last week I really enjoyed a supplement to our weekly newspaper, The Isthmus, called "Summer Times".  It reminded me of all the wonderful things Madison has to offer this time of year.  Certainly we have our time-honored events like Concerts on the Square, Opera in the Park, Art Fair on the Square, and Paddle and Portage.  But The Isthmus supplement was well done because it also featured things to do and see that are less familiar, either because they typically attract a smaller crowd or perhaps still have not been discovered by most residents and visitors.  Of those, the following are ones I would recommend checking out for summer 2015: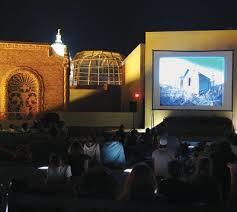 1.    Madison Museum of Contemporary Art (MMoCA) Rooftop Cinema. The Isthmus dedicates a whole section to outdoor movie watching.  This has been a summer tradition in our family for years, and we love it.  While there are options around town for drive-ins and outdoor venues featuring major films, MMoCA makes it extra special with avant-garde short films, including a Canadian precursor to sketches from one of my favorite TV shows, Kids in the Hall.  MMoCA shows the films on top of the Overture Center on State Street, adding to the appeal of this film-watching experience.   Movies screenings are Friday nights in June and on August 21.  www.mmoca.org
2.    Music Theatre of Madison (MTM) at The Brink Lounge.  For a small city, Madison has an impressive number of theater groups.  MTM has earned an excellent reputation among vocal performers and will perform a show called Miscast 6.0.  This one-night only cabaret on July 31 features performers encouraged to bring to life songs from their favorite musicals, whether the performers are right for the part or not.  The result is entertaining mismatches that demonstrate vocal skills in funny and sometimes moving performances.  A further bonus is Miscast 6.0 will be held at one of my favorite music venues – The Brink Lounge, a casual yet elegant space just blocks from the Capitol Square and The Livingston Inn.  www.mtmadison.com
3.    Juneteenth.  One Madison tradition that has endured over the years is the annual Juneteenth celebration.  In its 15th year, the 2015 event features a parade at 4pm on June 19th at Brittingham Park followed by a celebration on June 20th from noon to 6pm at Olin Park.  From music to movies, literature to language, fashion to finance, Black America has a predominant influence on mainstream American culture.  Juneteenth is an ideal way to celebrate African-American heritage and emancipation as part of our urban community.  www.juneteenthmadison.wordpress.com
4.    Madison Radicals.  Have you heard about our ultimate disc (Frisbee) team?  They're having another stellar year, leading the standings in the Midwest division.  Best of all, they play at Breese Stevens field, a beautifully restored old ballpark just blocks from The Livingston Inn.  The Radicals attract a nice-sized group of dedicated fans, and we sometimes enjoy an evening on our front porch just listening to the roar of the crowd when there's a goal or spectacular play.  Remaining home games are 6/20, 7/12, and 7/17.  www.radicalsultimate.com
5.    Shake the Lake.  For many years our renowned summer fireworks event, Rhythm and Booms, attracted big crowds and was the fireworks show to see around town.  Unfortunately, lack of funding got the best of it.  Shake the Lake hopes to re-vive our fireworks tradition in Madison.  Set on Lake Monona and John Nolen Drive, the evening fun includes live bands plus performances from the UW Marching Band and our superb Mad City Rollin' Dolls roller derby.  The event also offers fun for kids, a rooftop party on Monona Terrace, and a collaborative BBQ platter featuring our top restaurants through the Madison Area Chef's Network.  Join the fun on June 27 starting at 5pm, fireworks at 10pm.  www.shakethelake.org
There are many other wonderful events, games, festivals, and fairs related to music, theater, sports, art, and so much more this summer in Madison.  It's sure to be a time for great memories.  If you happen to be staying with us in the coming months, be sure to ask what's going on around town.  We would be happy to tell you how you might work one or two extra special opportunities into your visit to Madison.
Happy Summer!