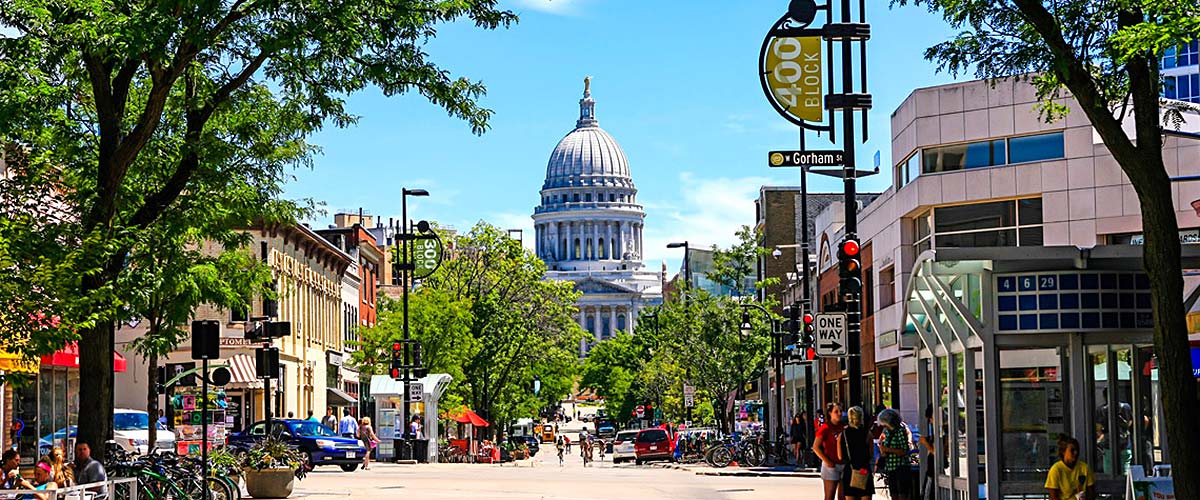 Discover Madison: Our City & Its Attractions
Situated between Lakes Mendota and Monona, Madison is one of only two major American cities built on an isthmus (we'll give you an extra pillow at check-in if you can tell us the other city). The Livingston Inn has access to Lake Mendota, the larger of the two lakes, where many guests choose to spend the whole day, or the evening, on the water. An adjacent park offers a bike trail and walking path along the lakeshore, and patrons may wish to continue on, along the shore, through the downtown area, on to the UW-Madison campus, and the iconic Memorial Union—for the Dairy State's very own Babcock Ice Cream.
For dining and nightlife, the Inn is conveniently situated, with many of the city's top dining establishments and trendy new foodie hangouts just steps away from our front door. From brew pubs, comedy clubs, one of a kind shops, and a fabulous array of dining options on Madison's beloved State Street, to the hip dining spots on the wonderfully eclectic Willy Street, guests will find a variety of options for day and night.
Use the map below to view some of our favorite Madison business near our inn
Year-round activities and events in Madison are numerous. Some options include:
UW Badger athletics at Camp Randall and the Kohl Center

Live theater and music events

A variety of museums

Olbrich Botanical Gardens

Concerts on the Square

Madison's world-famous Farmer's Market

The Annual Art Fair on the Square

Conventions, conferences, street and neighborhood fairs

State Street shopping and nightlife

Syttende Mai, Iron Man, Paddle & Portage, and other notable race traditions

Canoeing, kayaking, biking, ice skating

Boat tours and dinner cruises

CrossFit Games