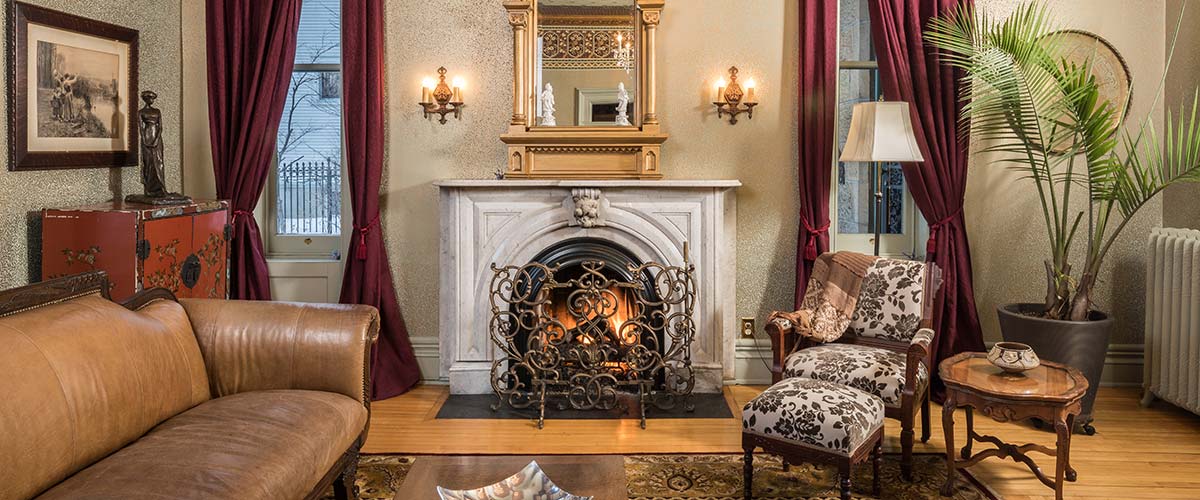 Learn About the Livingston Inn's History and Ownership
Built in 1854, The Livingston Inn is an important landmark in the history of Madison. Listed on the National Register of Historic Places as the William T. Leitch House, the home is constructed of local buff-colored sandstone which was quarried in nearby Westport, barged across Lake Mendota, and cut on the building site. In addition to being a prominent landmark in the City of Madison, The Livingston Inn is an important piece of local history. Two of Madison's first mayors (William T. Leitch, 1862-65 and Moses R. Doyon, 1888-90) lived in the house between the years 1857-1881 and 1881-1902, respectively. In addition, a prominent member of the Progressive movement and a close friend of "Fighting Bob" LaFollette lived in the home in the early 20th Century.
About the Owner
Owner Peggy Furlan will warmly welcome you to her home. Peggy has extensive experience in professional hospitality, having worked in the hotel and travel industries in the upscale tourist town of Breckenridge, Colorado. Peggy has extensive knowledge of wine and food, including locally produced organics. A resident of Madison for over twenty years, Peggy is familiar with the people and places of this wonderful, accessible city and will happily offer suggestions for dining, entertainment, or leisure activities.
Book Your Stay At The Livingston Inn
We realize that when it comes to travel, you have lots of options and plenty of tools to help you get around the world. If you've been looking for a unique bed and breakfast experience for your next trip to Madison, where Old World charm meets modern convenience, we hope you consider our Inn. Check availability online, or give us a call to reserve one of our five well-appointed rooms today—and thanks for considering The Livingston Inn your temporary home away from home!
Environmentally-Friendly Bed and Breakfast
We employ environmentally friendly cleaning practices and use all-natural, concentrated cleaning products for the kitchen and household. Laundry detergents are all-natural, perfume free, and dye free. Shampoo, conditioner, and soaps provided to our guests are made from natural and biodegradable ingredients with no animal products and are cruelty-free. The Livingston Inn recycles, and we compost both yard waste and kitchen scraps. All dairy products and eggs are organic, and we purchase vegetables and breakfast meats from local farmers and producers who share in our commitment to the environment in the products they provide to us.