The Turn on Johnson website has a countdown.  It's the number of days until the Johnson Street construction is finished.  As I write this blog, the countdown says 103 days.  I'm sure many of the neighbors, commuters, and area businesses will be grateful when that number approaches zero.
At the same time, our neighborhood campaign asking residents and visitors to "turn on" Johnson Street during construction and patronize our small business community entreats us not to be controlled by the future.  Instead, we should embrace the present.
With that in mind, I want to take the opportunity to tell you about some of the unique shops that will certainly make it worthwhile to visit our neighborhood around The Livingston Inn, whether now or anytime down the road.
Fontaine.  Located at 811 East Johnson, Fontaine is hands down one of the best gift and interior design stores in all of Madison.  Just look at the window display in any season and you are certain to be impressed.  For anniversaries, birthdays, holidays, open houses, and any other special occasion, I guarantee you will find something unique, stylish, and beautiful.
The owner, Barry, has been in the location for seven years and has been in the business for over 12 years.  He describes Fontaine as "Madison's go-to business for style and home interior luxury.  It's like walking into a fantasy where there's something for everyone." Peggy and I couldn't agree more.
If you drive to Fontaine, parking is easy.  Just take Paterson or Livingston one block south from Johnson and the lot is directly behind the building on Dayton Street.  And one more tip:  if you visit during Turn on Johnson, you should also plan to come back during the holiday season.  The decorations during that special time of year are simply amazing.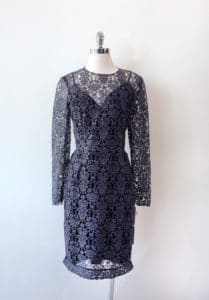 Iona.  The next door neighbor to Fontaine is a similarly stylish place.  Primarily featuring clothing and jewelry, Iona is welcoming and thoughtful.  Proprietor Pamela Wilson describes her store as "women's contemporary designer fashion" and like Fontaine says there is something for everyone.  Iona opened in August 2013, so Peggy and I are very happy to welcome them for their first anniversary in the neighborhood.
Parking is similarly easy at Iona.  They share the same lot with Fontaine via Dayton Street. Also, Iona is very active on Facebook, so we recommend you "Like" their page for helpful updates on the latest fashion trends, promotions, and sales.
Good Style Shop.  Just a few doors down from Fontaine and Iona, shoppers will find Good Style Shop at 817 East Johnson.  Pete, the proprietor, provided some wonderful information about the store that I couldn't do justice without simply quoting him:
"Good Style Shop began as a small vintage clothing buy-sell-exchange shop on the corner of East Wash and Hancock back in 2009. Since moving to this neighborhood in October 2012, we've grown into a flea-style vintage collective with a discriminating view of cool, accessible vintage clothing and LP records. In keeping with the original vision, we host art installations and the occasional live music performance to keep ties with current culture and bring in new customers. All our sellers relate clothing to a way of living — we know fashion to be a statement, a code, a head-to-toe proclamation of well-informed, personal style.
Many of our customers are returning neighbors, vintage clothing costumers, other resellers, and campus / style blog ingénues.
Our biggest trends stay tethered to runway and contemporary cycles, but don't replicate them. A lot of items we sell serve to set off, or personalize someone's seasonal purchases, but then again, some current trends replicate or borrow vintage silhouettes, styles, and materials. We love to bridge that gap."
If you need parking when going to Good Style Shop, I recommend Paterson.  There are always spaces on the 100 block, which is just a short two blocks around the corner.  The shop is also very active on Facebook, offering the latest on sales and styles.
UpShift.  Located at 836 East Johnson, UpShift advertises you can get a whole new wardrobe with their simple clothing exchange process: 1. Bring used items from your closet, 2. Pay $20 to cover all your shopping, and 3. Fill your bags to take home.
Their website provides additional details on this unique shopping concept and the store is active on Facebook as well.  I recommend the same parking advice as for Good Style Shop.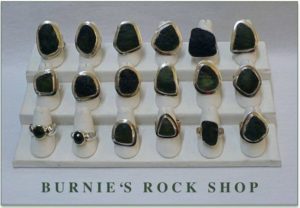 Burnie's Rock Shop.  At the corner of Johnson and Paterson, Burnie's is an icon of the East Johnson business district.  Started in 1962 by Burnell "Burnie" Franke, the store features colored gemstones, minerals, fossils, meteorites, stone beads, decor items and natural gifts from the Earth.  Burnie's also offers custom jewelry and repair work.  If you are seeking to buy something special for someone special, Burnie's is the place to go.  Our family has found wonderful stones to symbolize birthdays and anniversaries.
My recommendation for parking is the same as for Good Style Shop and UpShift (see how easy this can be!), and like all of these other savvy shop owners, Burnie's always has lots of excellent information on their Facebook page.
I hope this summary of our special little shopping district entices you to visit our neighborhood as part of the Turn on Johnson campaign.  If you find something special or wish to share your shopping experience, Peggy and I would love to hear from you!