It has been quite a year for us, and as we head into the last half of our second full year of business (we hosted our first guests two years ago in July), Peggy and I wanted to take some time to express our appreciation for your support and enthusiasm toward The Livingston Inn and everything we've managed to accomplish.  We couldn't have done any of it without you, so THANK YOU!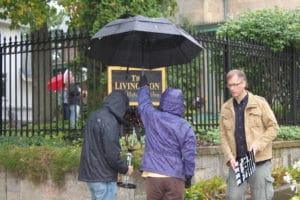 Over the past eighteen months, the Livingston Inn has hosted elegant dinners, weddings, showers, book clubs, garden parties, backyard yoga and a long, fascinating list of guests.  We even had a movie shot here!  We look forward to even more events — we'd love to host you and your friends; The Livingston Inn is a unique, beautiful space, but it's also relaxing and refreshing.  We've been told time and again how much our guests love to simply sit by the fire and chat, or curl up with a good book.  We understand.  We noticed the inviting energy as soon as we set foot in the home ourselves.  So let us know if we can help you plan and host an event in 2013.
I thought it would be fun to let you know about some of the ideas we've had for The Livingston Inn.  Some are things we've actually considered and are working on for the near future, and some are things we'd like to see happen, but don't have the time to put in place right now.  But if you have connections or a fierce drive to bring them to life, let us hear from you!
Backyard yoga – we had a wonderful start to this program in 2012, and look forward to continuing it when warm weather returns in the spring.  The yoga class begins in the front yard, and after class the participants partake in tea and sweet treats in the Conservatory. Contact us to be included when we start up again!
Valentine's Dinner – Following up on our successful Century Dinner last February, we'll be hosting a special "romantic Valentine's Day" event in February with our pop-up dinner chef, Dan Fox of Fox Heritage Foods.  Contact us for more details!
Betty Lou Cruises – we've talked to the Betty Lou Cruise-line and both sides would love to instigate Livingston Inn packages; so far it hasn't worked out because the lake is too low to stop at our dock, but we're hoping for better luck in the future.
Mystery Dinners – some friends have brought up this wonderful idea, to be hosted in the inn.  The right stars haven't aligned to bring it together yet, but we're hopeful it will come to fruition in 2013 or soon after.
High Tea – We really like the idea of serving a high tea at The Livingston Inn.  As far as we can tell, no one in Madison offers this engaging afternoon experience, a big hit over the past few years on the East and West coasts.  We're working on it as a public event, and could even offer it privately for small groups sooner.
Etiquette classes – apparently etiquette classes are a rising business model.  Who knew?  Peggy is a fan of Downton Abbey, and every time the show comes on it reminds us of our own wonderful home.  Wouldn't it be fun learning about social graces and communication skills in a Gothic mansion that harks back to the days when such things were crucial to success and a good reputation?
Gardening classes – Peggy is a wonderful gardener, and she and some of her gardening expert friends are considering some simple classes during the spring and summer months.
Mad City Women – Peggy's had a few conversations with friends and acquaintances about putting together some sort of group for the remarkable women of Madison.  What a great idea! We haven't had the time to invest in it, but this is one thing we'd love to see happen this year, and we've put some feelers in place to try to generate some interest and energy around it.  Contact us if you'd be interested in taking part in a group like this and we'll work on putting it together.
If you think it would be fun and interesting to host things like book groups, family reunions, business meetings or retreats at our B&B, we would love to hear from you.  The Livingston Inn is a unique, elegant alternative and chances are we can make it easier and less stressful than hosting in your own home.
Here's to a grand new year – and to making all of our wishes come true!